Heating systems/ Pompes à chaleur
The heat pump gets calories present naturally in the environment (air, water and ground), converts them and restores them to a superior temperature that it spreads then in the house or that it passes in the water of the swimming pool. Hot air pumps are classified according to the environment where from they pull their energy (air, water ou ground) and of the system of distribution (air, water or refrigerant). We speak about heat pump Air-Air, Air-Water, Water-Water, etc… The heat pump can be used alone (on the electric network) without photovoltaic panels, but, if your demarche is not only to warm the pool but also to be on an ecological project it is possible to connect the pump on photovoltaic panels.
La pompe à chaleur récupère les calories présentes naturellement dans l'environnement (air, eau et sol), les convertit et les restaure à une température supérieure qui se propage ensuite dans la maison ou qui passe dans l'eau de la piscine. Les pompes à chaleur sont classées en fonction de l'environnement d'où elles tirent leur énergie (air, terre ou l'eau) et du système de distribution (air, eau ou fluide frigorigène). Nous parlons de pompe à chaleur air-air, air-eau, eau-eau, etc … La pompe à chaleur peut être utilisée seule (sur le réseau électrique) sans panneaux photovoltaïques, mais si votre démarche est non seulement de réchauffer la piscine mais aussi d'être sur un projet écologique, il est possible de brancher la pompe sur des panneaux photovoltaïques.
Heat Pumps Characteristics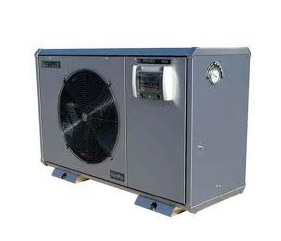 Titanium Heat exchanger
Patented counter-flow water management system
Heats water faster and more efficiently
Impervious to chemical corrosion
Durability without sacrificing performance
Lifetime warranty
Microprocessor Controlled – with Digital Display
Patented counter-flow water management system
Accurate and easy to read bright blue display
On-board self diagnostics
Microprocessor controlled defrost cycle
ICEBREAKER Heat & Cool
Extends swimming season longer than any other heat pump on the market
Continues to heat in freezing temperatures to minimize heat loss
Cool your pool to a refreshing temperature
Set to heat, cool or autotemp
Corrosion Resistant Cabinet
Patented counter-flow water management system
Rust resistant, heavy gauge G90 Galvaneal steel with 7 step Powder Coat process
Polymer condensate drain system
Polymer coated fan and coil guards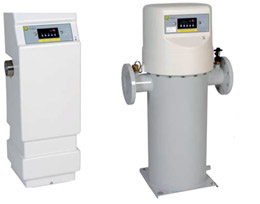 For the biggest pools (over 150m3)
Easy to install
Complete digital regulator (thermostat, timer…)
Maximum robustness (EPDM fixtures, hypalon connections)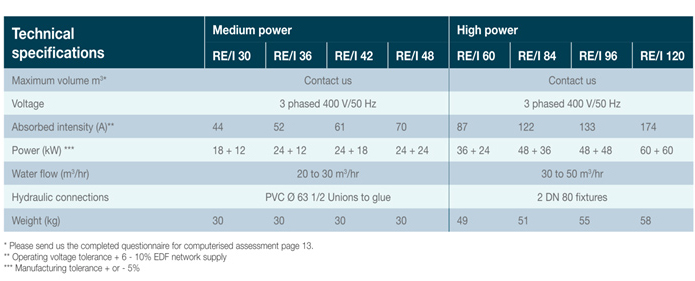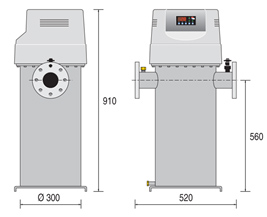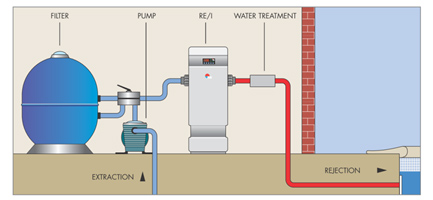 Installation
Line connection using two PVC Ø 63 unions (RE/I 30 to 48) or by two DN 80 collars (RE/I 60 to 120)
Water flow direction : turn the water flow switch and the regulation sensors in the right direction.
Plan a by-pass if the filter pump flow is cover 30 m3/hr.
Electric power 3 phased 400 volts protected by a 30 mA ground fault circuit breaker (not supplied).
Description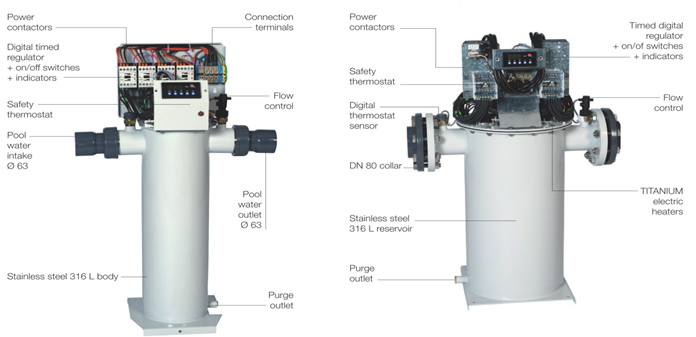 There is 2 simple ways to install your solar thermal panels system
Basic Solar Pool Heating System
Using your existing pool installation including your filter and pump you can cut into the plumbing using the valve kit to run the solar system. This is an ideal pool solar system.
Solar panels
Header kit
Valve kit
Piping
Fixed integration ( rails and bolting )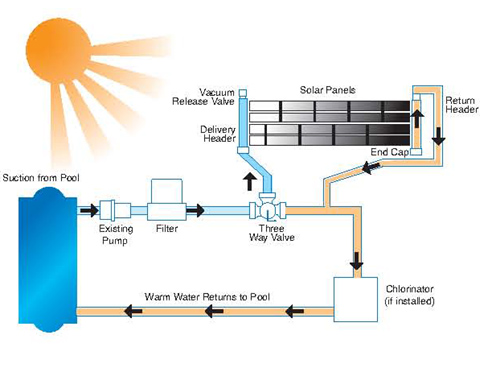 Boosted Solar Pool Heating System
As with a basic solar pool heating system you utilize your existing pool installation including your pump and filter. There is also a solar controller option to automate the solar pool heating of your swimming pool. The boosted Solar Pool Heating System uses an extra pump to raise the water up to the roof and into the Solar Pool Heating absorber panels and back to the pool via the existing pool return line. This is also called a filtered water system and is an excellent type of system.
Solar panels
Header kit
Valve kit
Piping
Fixed integration ( rails and bolting )
Solar Boost Pool Pump
Solar pool controller